Frequently Asked Questions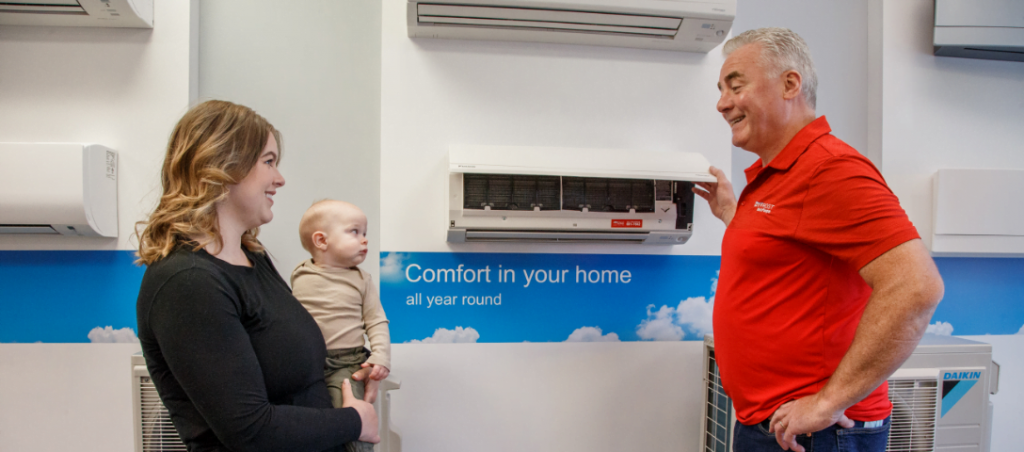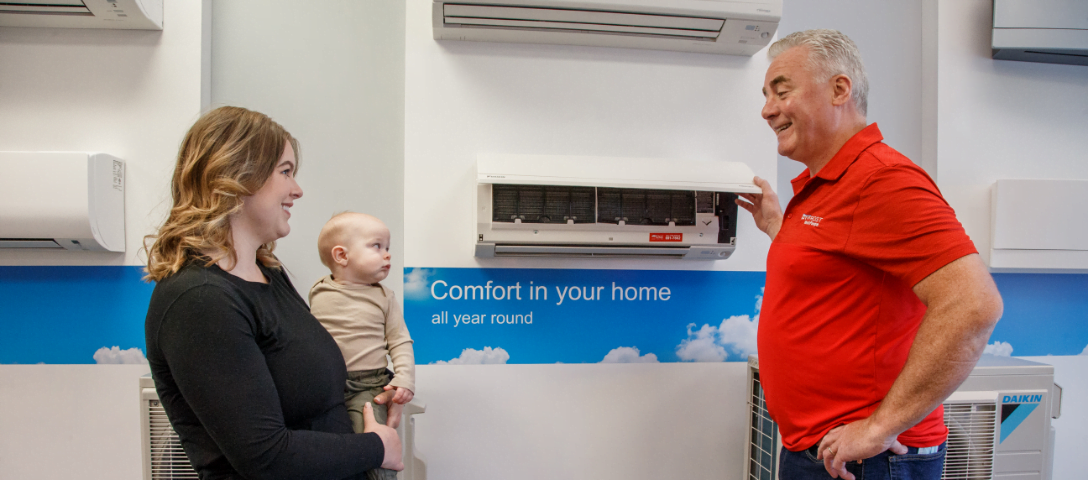 What are the benefits of a heat pump?
Heat pumps are considered as one of the best solutions for all your heating and cooling needs. They provide optimal performance and high energy efficiency using electricity. These units help you save on energy bills while improving the indoor air quality. If you have decided to use heat pumps for cooling in the summer, they can automatically dehumidify your home.
How do I choose the right installer?
Prior to your installing a heat pump system, it is important to choose the right heat pump contractor. A contractor who has an established business and who is locally owned are always the best choice for future service or warranty issues. Insist on a Red Seal Certified technician for refrigeration and electrical trades. When selecting a product brand, choose a major brand ambassador contractor who is backed by training and resources, just like our certified technicians. These contractors have established relationships with manufacturers for warranty issues and technical support.
How do I determine which type of heat pump is suitable for me?
Heat pumps are sized for specific spaces and conditions, so the bigger sizes are not necessarily better. An in-house consultation would help you discuss your heating and cooling needs with a professional. After a thorough diagnosis, a certified installer will provide you with reliable solutions that best suit your needs and budget.
There are many different brands of heat pumps available in the market. You'll get hundreds of brands when you search online. However, it is always vital to look for a reputable, well-established brand such as Daikin. A brand that offers great warranties should be your preferred choice.
How much will a heat pump reduce my electrical bill?
On an average, a heat pump unit will help save you 30% of your home's electricity bills. Overall savings, however, depend upon the comfort level required in the home and the habits of those living there.
What kind of warranty can I expect with a heat pump?
We always recommend you to first check with your installer as this depends on different brands and models. At HOT FROST Heat Pumps, we take pride in being backed by Daikin's 12-year part and 10-year labour warranties on our ductless systems. Ducted systems have a 12-year part warranty and a 1-year full coverage warranty offered by Hot Frost.
Though warranty service is looked after under the warranty program, diagnostic visits are not covered. Some contractors will charge you a diagnostic fee just to see what is wrong should your heat pump malfunction. If Hot Frost installs your heat pump, you will not be charged a diagnostic fee for the life of your labour warranty. It is important, when reviewing quotes, to ensure you know the details of the warranty coverage and how you can access that coverage.
Are there any rebates or incentives associated with heat pumps?
Daikin offers quarterly rebate programs. Check out our Facebook page for current and up-to-date offers.
The Government of Newfoundland and Labrador has teamed up with NL Hydro to offer an Oil to Electric Grant up to $5,000 and introduced a Heat Pump Rebate Program for qualifying consumers in 2020. Learn more. The federal government NRCan Canada Greener Homes Grant program offers up to $5,000.
If you are installing a whole home ducted system, we will assess the heating and cooling needs of your entire home either from a physical inspection or from a set of house plans. For new builds, we can offer a whole home package of equipment, including the installation of the heat recovery ventilator, the ducting for a range hood, the dryer vent, etc. Our whole home package takes the worry out of ensuring all your ventilation needs are met.
How do I know what size system my house needs?
Size is important! Size could increase your budget unnecessarily and decrease efficiency. A ductless heat pumps system is installed to cater to the heating and cooling needs of particular zones in your home. They are sized accordingly to ensure efficient heat distribution throughout your home. Some common capacities for indoor units include 9K, 12K, 15K, 18K, 24K , and 30K BTU. We will determine the BTU requirements of your home and help you choose the system accordingly.
Do I still need a backup heat source with a ductless heat pump?
Yes, because ductless heat pump systems are considered as the secondary sources of heat. All homes are required to have a primary source of heat i.e., baseboard heaters in the event of any emergencies or extreme cold.
Do ductless heat pumps take up a lot of room?
Ductless heat pumps are flexible and tend to take up very little space. They are small indoor units that can be installed without taking up a lot of room. You can also control the temperature for separate rooms by setting up different zones throughout your home.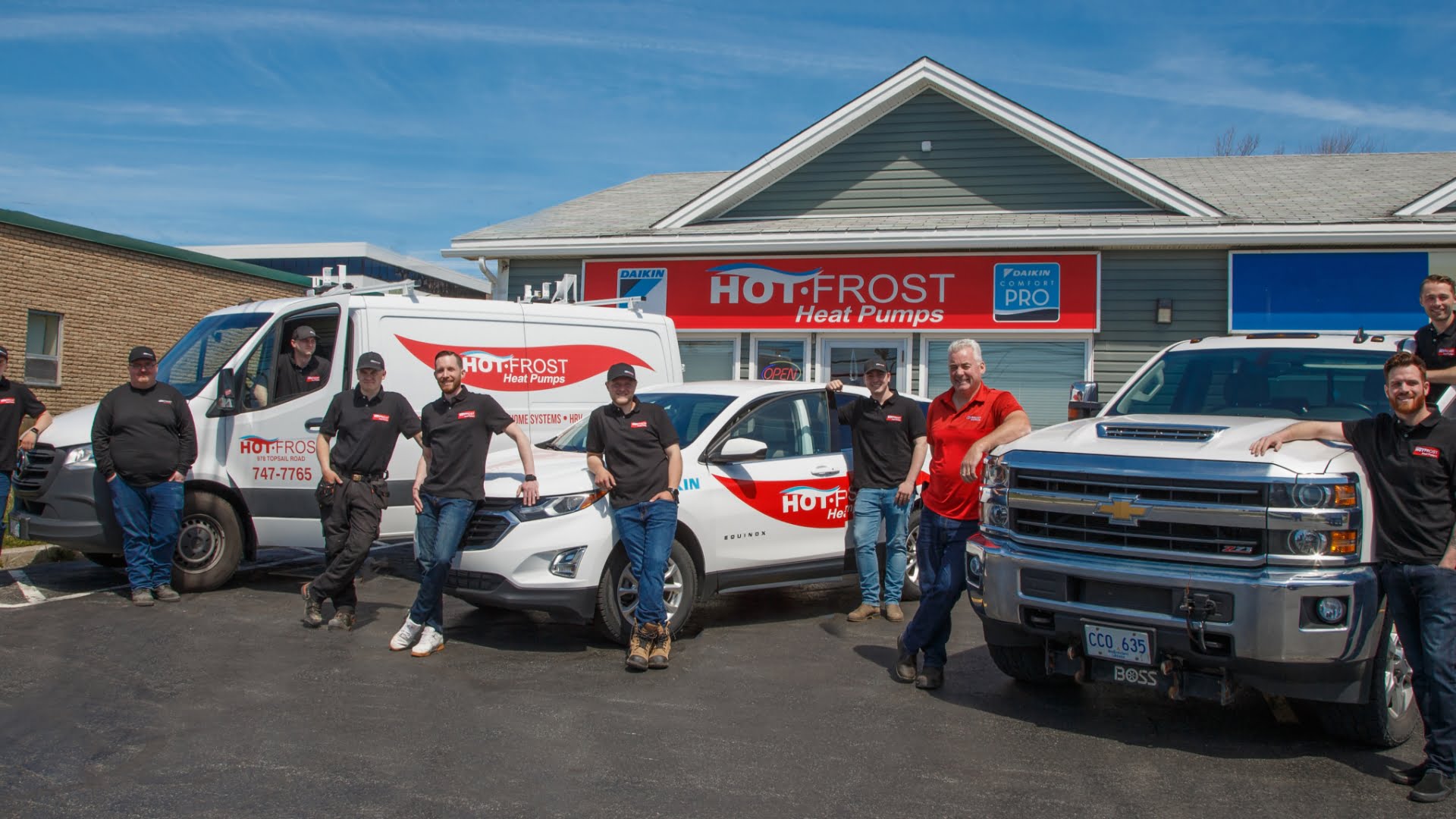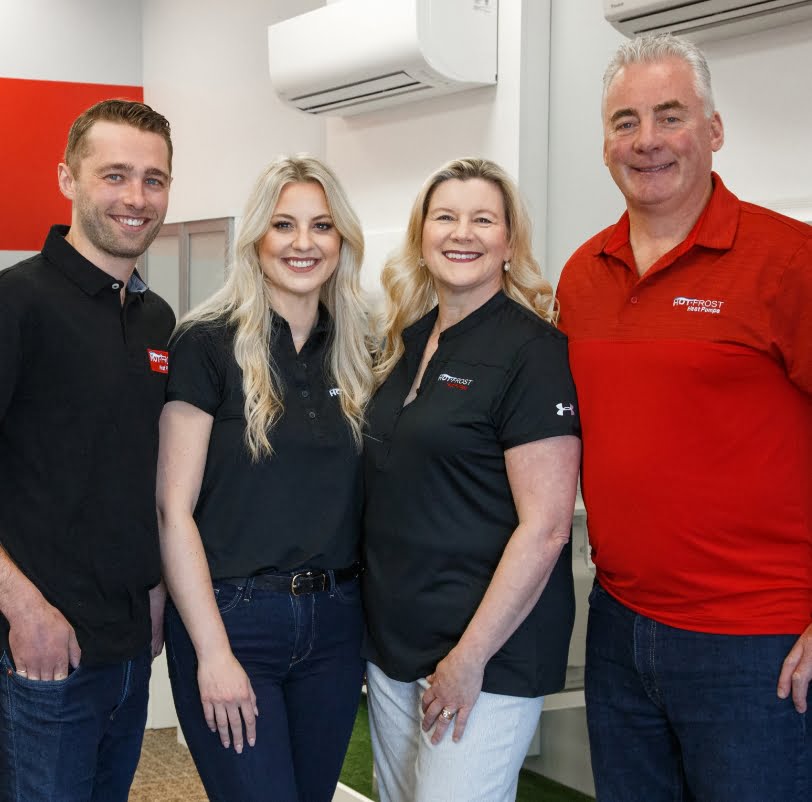 Get In Touch With The Home Team
With over 15 years in the business, Hot Frost has the knowledge and experience to provide all your heating and cooling needs. Our highly trained and certified staff are ready to answer any questions you may have – get in touch with us today!