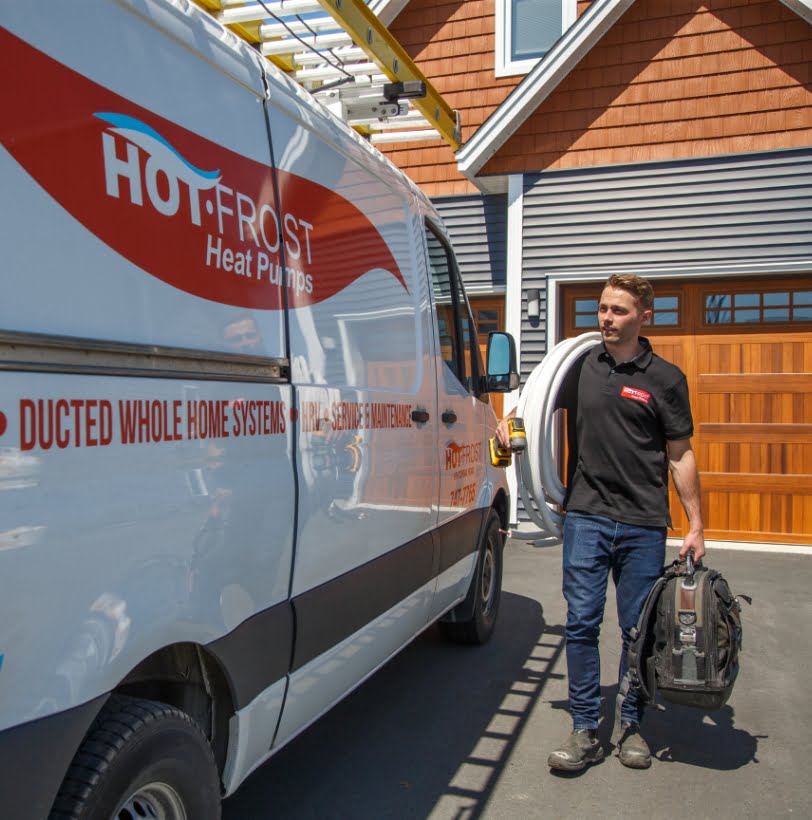 Getting Your Heat Pump Installed
For over 15 years, Hot Frost has been providing our customers with the benefits of year-round, worry-free comfort in their homes. From our first conversations to installation and beyond, we're with you every step of the way.
The Benefits of a Heat Pump Installation With Hot Frost
HEAT PUMP REBATES

We all share in the global responsibility of reducing the consumption of fossil fuels and finding ways to become more energy efficient. There are several government incentives available to encourage homeowners to increase the energy efficiency of their homes.

We Offer Friendly Financing Options

We are here to help you access the funds you need to take advantage of heat pump savings. Our financing options have been developed to meet the needs of many homeowners and their unique financial circumstances. All you need to do is let us know and we can help!

UNBEATABLE WARRANTY

As a Daikin Comfort Pro, we are part of an elite group of HVAC contractors recognized as highly qualified and trained professionals with the ability to address your comfort needs. Daikin heat pumps are backed by an unbeatable warranty; a 12 year parts warranty and 10 year labour warranty covers Daikin's ductless mini split systems and a 12 year parts warranty and one year labour warranty covers the Daikin line of ducted heat pump systems including the innovative Daikin FIT heat pump system.
The Process
Reach out or Drop by our showroom

Get in touch with us by either filling out our contact form or dropping by our showroom to speak directly with one of our comfort specialists.

In-Home Consultation

After we've had our initial conversations, we can start sizing things up. No two homes are truly alike, so we'll schedule a free in-home consultation to assess your unique needs and requirements.

Quote/Financing/Rebate Options

After we've had a look and assessed the situation, it's time to crunch a few numbers. We'll draft up a free quote for installation, working with you to help take advantage of any rebate or financing options.

Installation Day

The big day! We'll schedule one of our experienced HVAC technicians to install your new Daikin heat pump. Depending upon the product chosen, it can take 2 hours to 5 hours to complete an installation.

Maintenance/Servicing

Once your heat pump has been installed, it's time to start enjoying the comforts of home. To ensure consistent unit efficiency, reduced risk of future repairs, and warranties, we recommend regular preventative maintenance. In the event of any issues with your unit, our team is on-hand to quickly diagnose the issue and provide a reliable solution to get your system operating at its best.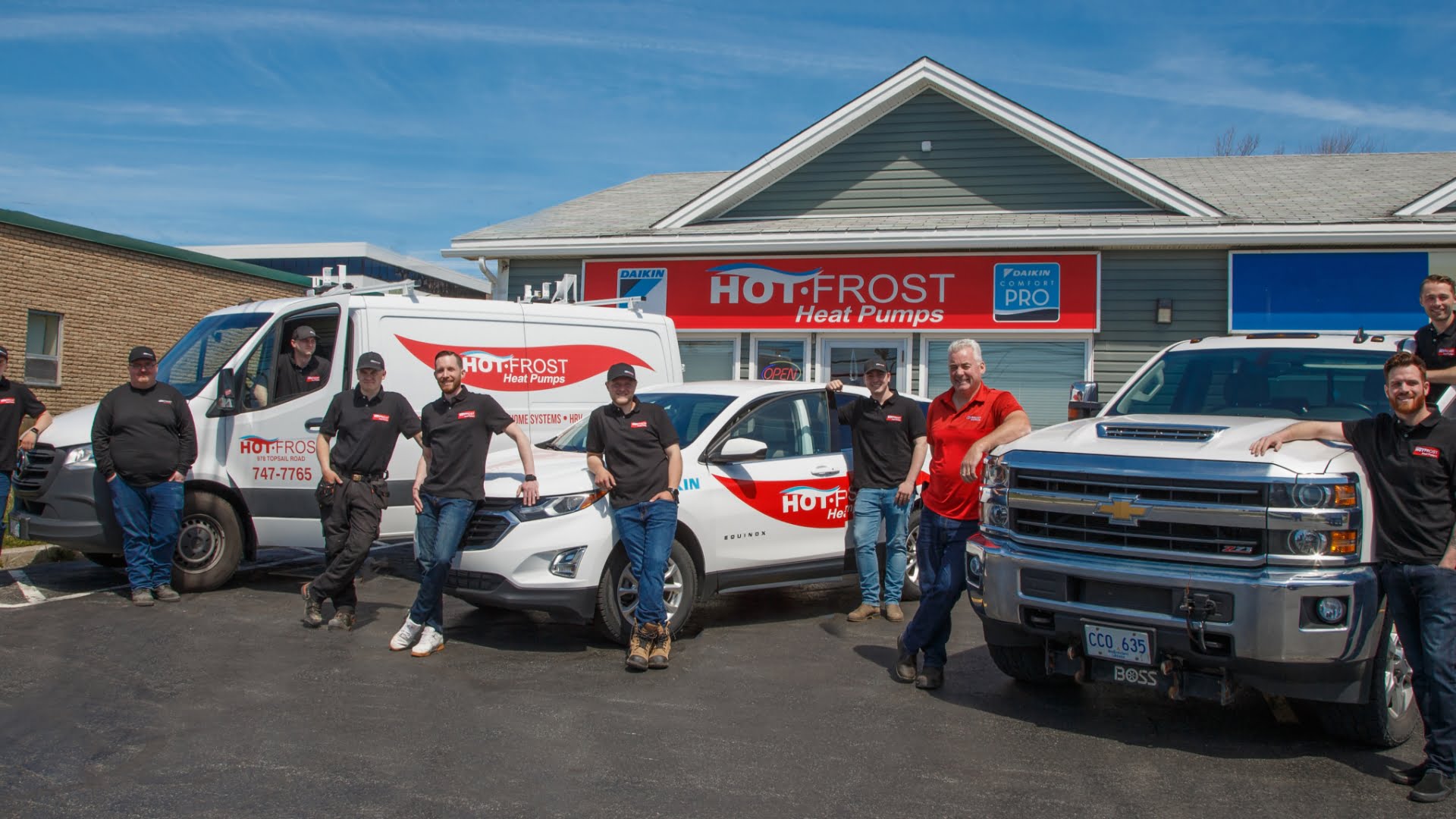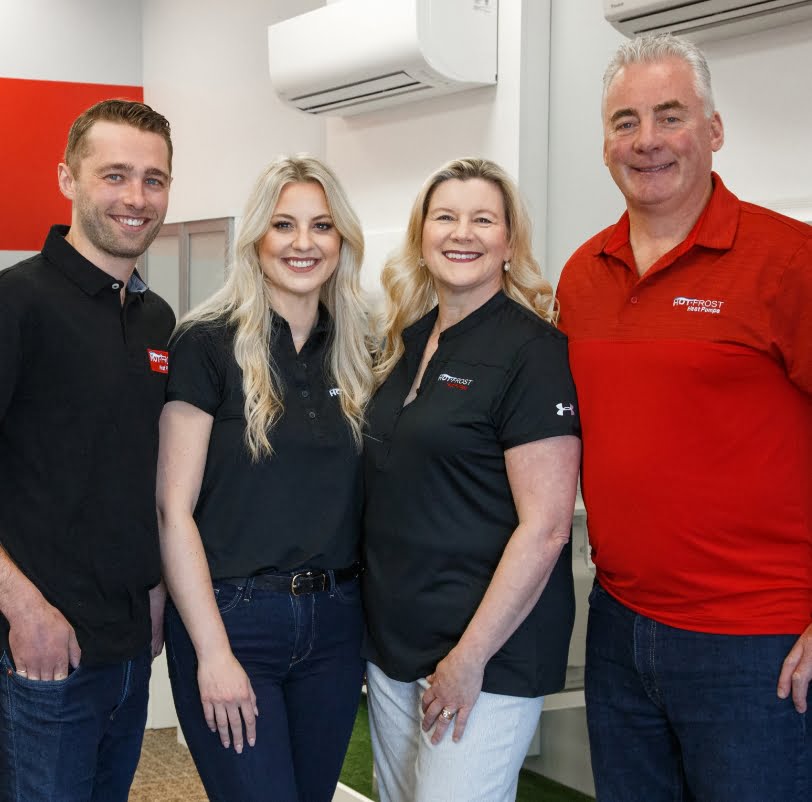 Get In Touch With The Home Team
With over 15 years in the business, Hot Frost has the knowledge and experience to provide all your heating and cooling needs. Our highly trained and certified staff are ready to answer any questions you may have – get in touch with us today!