Heat Pumps
& Mini Splits
Homeowners continually look for ways to improve their living spaces, enhance their home comfort and save money. Heat pumps are the solution! Daikin heat pumps offer an energy efficient solution that provides all your home heating and cooling needs – without the higher costs that come with traditional home heating methods. Instead of burning fuel or electricity to keep your home warm and cozy, or cool and comfortable, heat pumps work by taking heat from outside air (even in winter!) and transferring it to the inside of your home to give you ultimate comfort and climate control.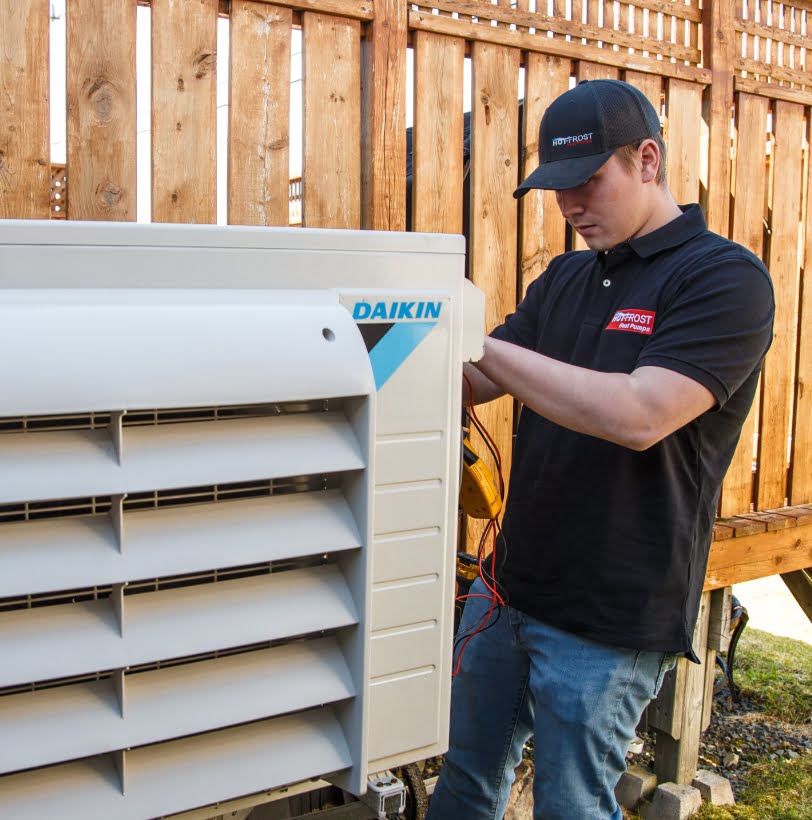 Daikin Mini Split Heat Pumps
Top Of The Line Performance
Newfoundland climates are anything but predictable. When you choose Daikin for your home heating needs, you can rest comfortably in the knowledge that we've got you covered – no matter what happens. Daikin's line of Aurora mini split heat pumps are 'cold climate' models that pair well with our local climate. These Aurora mini split heat pumps maintain 100% of their efficiency to -15 degrees and continue to provide heat in temperatures as low as -25 degrees. These units can be installed into your existing home with little inconvenience to you. We take care of the installation from start to finish. These models are available as single air handling units or multi systems that offer up to five air handling units for whole home comfort and savings.
Mini Splits
Energy efficient and easy to install, a Daikin mini split heat pump from Hot Frost keeps your home in the comfort zone year-round – while saving you significant money on your monthly energy bill.
Single Zone (DUCTLESS) Heat Pumps

All Daikin ductless heat pumps consist of an indoor unit, which is either wall-mounted, floor-mounted or concealed, paired with a quiet and compact outdoor unit.

Daikin's single-room heat pumps are energy efficient and ideal for heating a small space. They are small and unobtrusive in your home. Imagine your small office or studio being toasty warm without the fuss of a furnace or the hassle of a ducted system at all. With an opening just three inches or smaller in diameter, a ductless mini-split heat pump is easy to install and maintain.

Multi Zone (Ductless) HEAT PUMPS

Homeowners fight over temperatures in their homes and have rooms that go unused for long periods. Now they can save energy and control temperatures independently in up to eight separate zones, with a single outdoor unit. With available wall-mounted, concealed slim-duct, ceiling cassette, and floor-mounted indoor options, Daikin Multi-Zone Systems offer multiple indoor unit styles to meet all home comfort needs.

Floor-Mounted (Ductless) HEAT PUMPS

AURORA floor mounted units are simple to install and can be setup in various configurations, on the floor or hanging low on a wall. Its low height enables the unit to fit perfectly beneath a window. The airflow distribution pattern of Daikin's floor mounted unit is ideal for heating a space, and is a perfect replacement to traditional radiant systems.
Ducted Heat Pumps
Featuring Wi-Fi compatible controls and electronic air cleaners, these systems deliver the same high performance, energy efficiency, and significantly reduced energy costs as a ductless mini-split.
Daikin's line of ducted heat pump systems are offered in multiple sizes and are available in the traditional cube style outdoor unit as well as in the new low profile FIT design. With either system you need to have a system of ductwork to distribute the heated or cooled air throughout the home.
The rising star of Daikin's line of ducted systems is Daikin's new flexible, innovative and space saving ducted FIT heat pump system which comes with inverter technology, reducing energy on start up and operation. The condensing unit is paired with a variable speed air handler and a state of the art Daikin One Thermostat. Visit www.daikincomfort.com for information on the full line of Daikin products available.
With the ducted heat pump systems in a new build, we can provide you with an estimate for a whole home package which includes the heat pump system and ductwork, a heat recovery ventilator as well bathroom timers, range hood and dryer venting.
To replace your existing ducted heat pump system or to remove your oil furnace, we will customize the transitional ductwork necessary to seamlessly switch to the new and more efficient heat pump system.
Example of our products include:
Whole House Air Handlers

Air handlers are connected to the outdoor condensing units by way of refrigerant piping. Air handlers have a blower assembly which distributes  heated or cooled air throughout the ductwork system in your home.  Air handlers also contain the emergency heater for the system. It is always important to ensure your air handler is sized properly when paired with the appropriate outdoor condensing units.

Whole House Heat Pumps

A heat pump works by pushing refrigerant through a pair of coils. One coil is indoors, the other outdoors. In cooler weather, when you want to heat your home, the outdoor coil acts as an evaporator of refrigerant (a fluid used in many different systems that are meant to change the temperature of a given area) and the indoor coil acts as a condenser. When the refrigerant is turned to gas in the outdoor evaporator coil, it absorbs thermal energy from the surrounding air and then moves to the cooler indoor coil. That coil condenses the refrigerant vapour back into a liquid using compression, and the thermal energy (heat) is released into the indoor air.

Daikin One+ Smart Thermostat

The first smart thermostat to offer full two-way communications with Daikin HVAC systems.
The Daikin One+ smart thermostat is a cloud-connected hub of sophistication, designed for controlling temperature, humidity, and air quality. With a variety of connectivity options, there's a comfort solution for every project and customer.
Ventilation – Heat Recovery Ventilators
Traditionally, bringing fresh air into your home means letting heat out. Heat Recovery Ventilators (HRV) from Hot Frost are a reliable solution to exchange indoor and outdoor air, with minimal impact on your indoor heating and cooling systems. We can provide you with the size and style of HRV to meet your home's need for optimum air quality in your home.
We stock top-quality HRVs such as:
VENMAR Ventilation

Venmar is a leading Canadian manufacturer and distributor of ventilation systems, range hoods and air exchangers. Since the foundation of the company in 1978, they have been striving to raise the bar even higher and pushing their expertise even further to be able to offer customers ventilation systems and central vacuum systems that meet their expectations, comply with strict quality standards and boast remarkable reliability.

Fantech Ventilation

Fantech makes air quality control easy thanks to decades of research, development, and refinement that continue to push the industry forward. Learn which Fantech solution is the best fit in your next project today.
---
The Benefits of Heat Pumps in Newfoundland & Labrador
THE COMFORTS OF HOME

Forget the forecast. Heat pumps provide year-round comfort for your home, keeping you cozy in your castle – no matter what the weather throws our way.

ENJOY SAVINGS

Looking to lower your monthly energy bill? Look no further! From installation rebates to lower monthly bills, our Daikin heat pumps work to keep you comfortable at a fraction of the price!

ENVIRONMENTALLY FRIENDLY

On top of the unbeatable comfort and savings, heat pumps are an incredibly energy efficient way to heat and cool your home – no wasted fuel or electricity!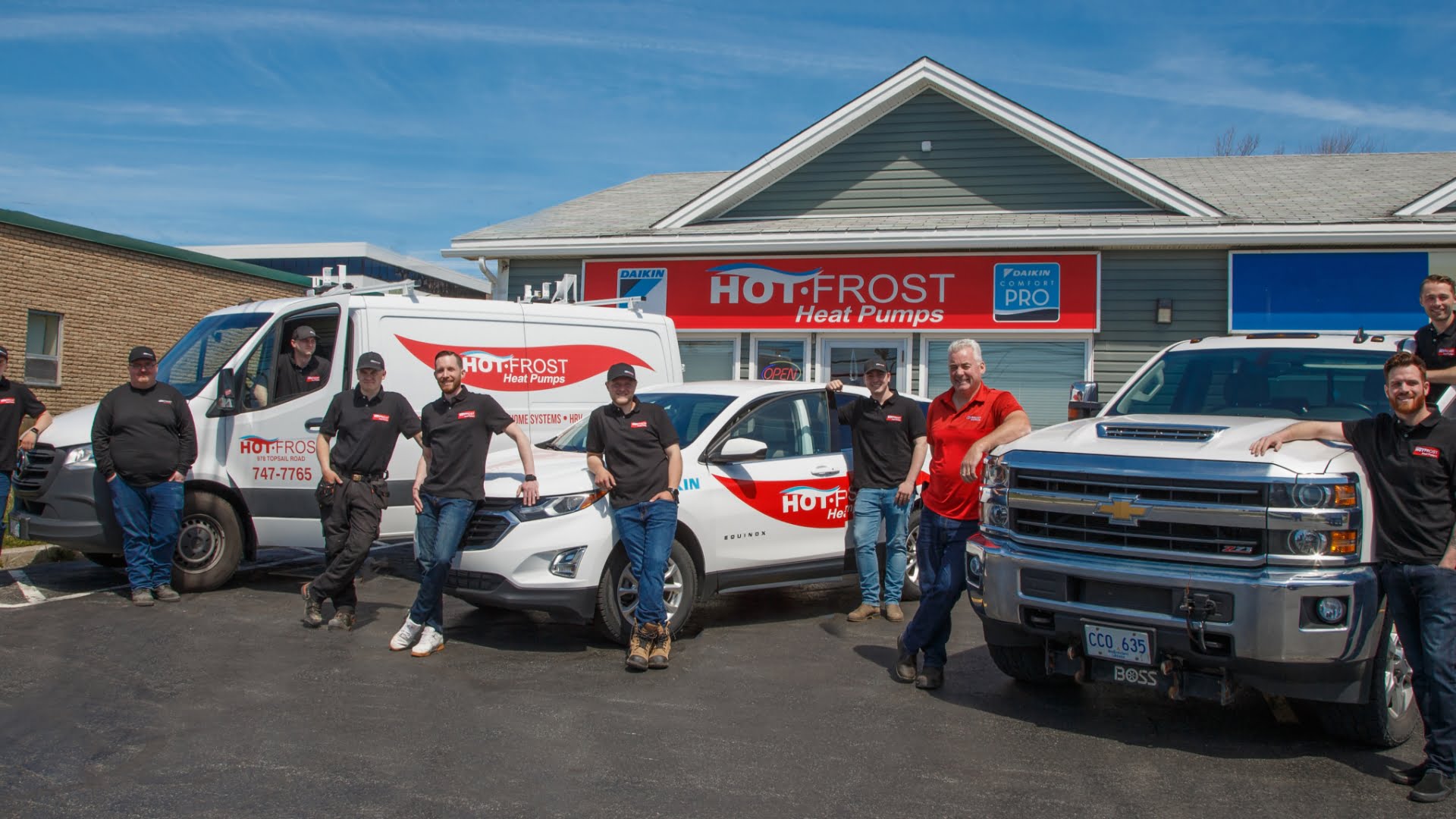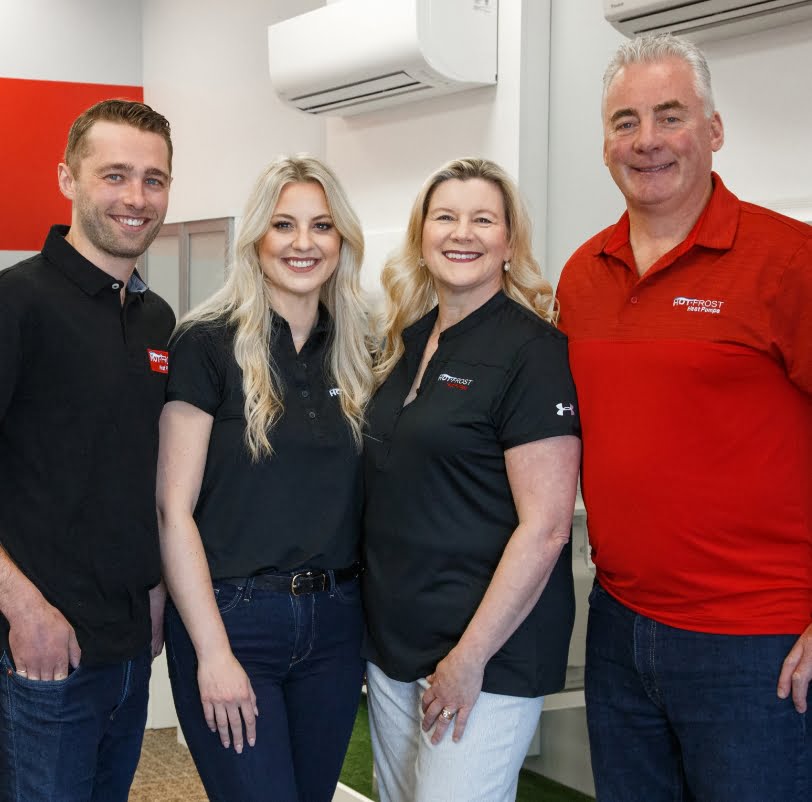 Get In Touch With The Home Team
With over 15 years in the business, Hot Frost has the knowledge and experience to provide all your heating and cooling needs. Our highly trained and certified staff are ready to answer any questions you may have – get in touch with us today!